MyChallenge
This year we are using the MyChallenge App to collect your laps, metres and miles towards the Sheriff's Challenge…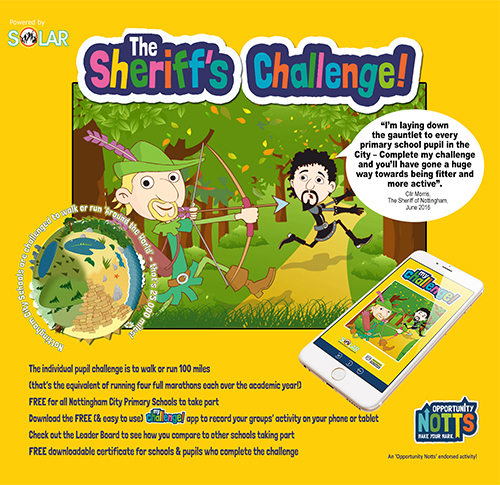 THE CHALLENGE FOR 2017/2018
Nottingham City Schools have been set the challenge to cumulatively Walk or Run around the World – that's 25,000 miles!  Pupils are set the individual challenge to walk or run 100 miles – that's the equivalent of running four full marathons each over the academic year!
Download and use the FREE "MyChallenge App" to record activity and find out how you are doing against the other schools signed up.
To use the MyChallenge app schools set out a manageable course around their school playground or field and measure it out in metres.  When the MyChallenge app is used to record laps, the results will automatically convert the measured distance to miles and will calculate an average distance covered by team members.
The Leader Board will display the top 5 teams.  The results are calculated on average miles per team member so big and small schools can compete equally giving everybody a chance to be number 1 on the board.  Detailed progress of all participating teams can be viewed by going to individual team pages so schools can keep a record of their achievements.
Together we are going to try and run around the world – that's 25,000 miles!
Wow, better get those running shoes on!