Home
Character Development…Powered by SOLAR
character-uk.org is the home of SOLAR, delivering character and personal development services in Nottingham and beyond.
A multi-skilled team bringing together Sport, Outdoor Learning, Life Skills, Adventure and Risk Management to provide you with a unique range of enrichment services all in one place.
We offer resources, experienced consultancy, services, training and experiences, adding engaging dimensions to learning and achievement in your school, developing children and young people through challenge, teamwork, personal attainment and social skills.
We work to statutory frameworks, and in collaboration with your team, to create safe emotional and physical environments for learning. We offer expertise and support your school to meet Ofsted's inspection criteria for Personal Development effectiveness. The experiences we support extend learning in and beyond the classroom to new contexts and challenges, and help young people develop character, learn to work together, manage risk, and develop important social and life skills across new environments.
Our 2019/20 Challenge…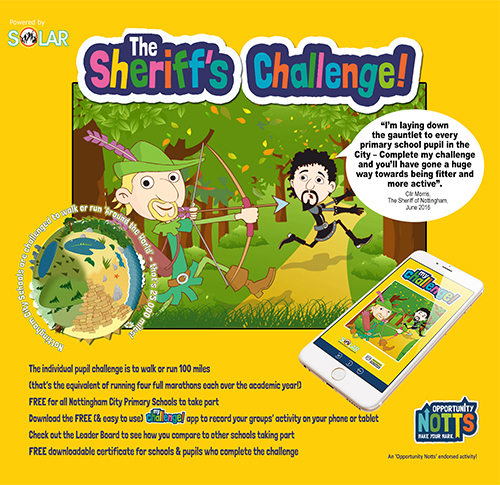 The Sheriff's Challenge
The Sheriff's Challenge is a series of activities for all Primary school-age children encouraging them to run, walk, swim and cycle.  Each academic year a different challenge will be set which will encompass a 'joint goal' for schools in Nottingham to cumulatively reach plus individual pupil targets.  It's FREE for schools and the benefits include promoting better health and wellbeing, children being outdoors and active, improved concentration, attainment, behavior and attendance. 
The Challenge for 2019/2020
Nottingham City Schools have been set the challenge to cumulatively Walk or Run around the World – that's 25,000 miles!  Pupils are set the individual challenge to walk or run 100 miles – that's the equivalent of running four full marathons each over the academic year!
Download and use the FREE "MyChallenge App" to record activity and find out how you are doing against the other schools signed up.
For more on how to get your school involved contact Helena in the SOLAR Team